Library Shows
Appropriate For Youth Library Audiences / Family Audiences
Show Length: 45-50 Minutes
Block Booking Discounts Offered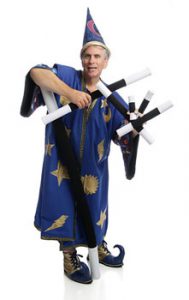 A show that is 100% pure fun!
Reading is fun! It creates an adventure in the reader's mind. But first you have to get the children into the library. What better way to bring the children in and demonstrate the great books and stories they can find at the Library then through magic.
"The funniest program we have ever had at our library".
Lee Curtis the Magical Wizard, who is a nationally acclaimed children's entertainer, winner of may awards creates a constant stream of giggles, laughs, amazement and smiles with a barrage of wacky, wild, and amazing magic tricks.
Be sure to pull your books on magic and performing arts for a display at the show, as Lee Curtis works in book recommendations into his show and encourages kids to check out a magic book to try some magic on their own. Lee Curtis has been a regular performer at Northern California libraries since he began performing in the 70's! Now after moving to the Denver area, he brings his shows to Colorado. Today, he is in demand as a magic show entertainer at schools, birthdays and childcare centers. Every summer, however, Lee Curtis sets aside time in his schedule to return to libraries to perform his summer reading programs.
Lee Curtis the Magical Wizard's Magic Show is sure to be the talk of your library families.